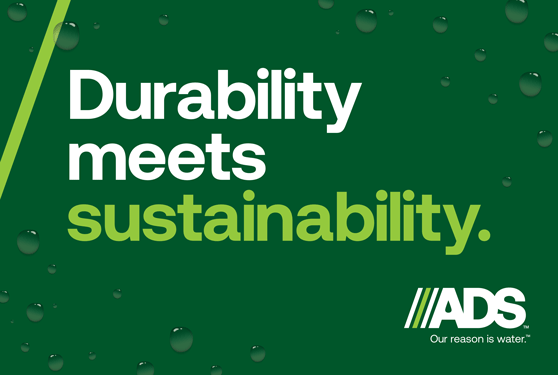 There are a lot of myths out there.
Bigfoot is real.
Sitting too close to the TV will make you go blind.
Recycled tile isn't as strong as virgin tile.
FACT: ADS recycled tile is proven to perform equally to tile made with virgin resin material.

As one of the largest plastic recycling companies in the North America, ADS has engineered recycled tile that stands up to the test every time.
When tested for physical strength in bending and flexing, ADS pipe performs 261% above the standard ASTM requirement.
When tested for strength by the risk of cracks and failures, ADS pipe performs 32% above the standard ASTM requirement.
When tested for stiffness and ability to resist bending after installation, ADS pipe performs 39% above the standard ASTM requirement.
Want to uncover more of the details?
Total water management yields results.
Another myth – tiling is only about draining excess water. The truth is, it can be a lot more than that. It's about having the right amount of water in the right place. ADS' water management solutions maximize the benefits of tiling, like improved yields and increasing farmable acres, to keep families farming for generations to come.